Sponsorship
The Orphan and Family Sponsorship Program of Hand of Help offers churches and individuals the opportunity to help change the world, one child or one family at a time. With the help of ministry volunteers, potential sponsors are connected with orphans at the Hand of Help Orphanage in Botosani, Romania.
The Child of the Month is Denisa C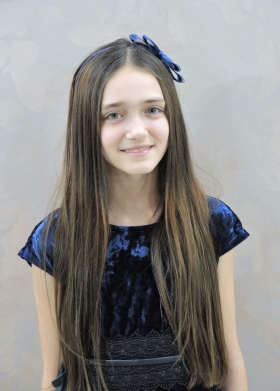 We welcomed Denisa (born in 2005), and her siblings, Delia and Ianis, to our growing family in September, 2018. Ever since their mother left the country in search of work, the three siblings have been alone. Despite all the gifts that their mother used to send them in order to compensate for her absence, the children were heartbroken and one could see the suffering in their eyes. The immense void in their hearts has however made the siblings grow very close in their relationship with each other. This is the reason why we decided to have them share an apartment within our orphanage. They have found a family environment at Hand of Help and a home for the foreseeable future. For the first time in a long while, they have started to smile and make new memories together.
Denisa is the oldest of the siblings. She was in the sixth grade when we started taking care of her. God has helped her adjust rapidly to her new environment and to her new school. She is one of the most studious children in her class and is constantly involved in various activities at school and at the orphanage. She enjoys having her own space in the apartment and keeps it very clean and well organized.
In her free time, she plays the block flute and memorizes poems. She has already learned some Bible Psalms and beautifully recites them!
Her mother keeps in touch with the children via phone calls and promises them they will be together again when she returns to Romania.
Please keep Denisa and her siblings in your prayers. May God protect them, guide them and bless them as they grow up and may they always look to our Lord as their Father, Protector and Comforter! May He bring healing to their hearts and help their family reunite in His time and according to His will.
To sponsor Denisa C, go to the Sponsor Today page, and click "I want to sponsor a child", and enter "Denisa C - Child of the month" under the Child Name section.
How was the Orphan and Family Sponsorship Program started?
How do I join the program?
How much does it cost to sign up?
How does the child or family benefit from the money that I provide?
What is the sponsorship schedule? How do I contribute?
What happens if a parent or relative removes the child that I am sponsoring?
Will I receive receipts for my support?
Will I receive information about a specific child or family?
Can I write to my sponsored child?
Can I send gifts to my child or family?
What happens to my child or family if I am unable to send the monthly support?
Can a group, church, or organization jointly sponsor a child or family?

---