Sponsorship
The Orphan and Family Sponsorship Program of Hand of Help offers churches and individuals the opportunity to help change the world, one child or one family at a time. With the help of ministry volunteers, potential sponsors are connected with orphans at the Hand of Help Orphanage in Botosani, Romania.
The Child of the Month is Delia C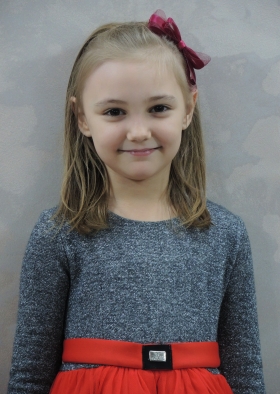 Denisa, Delia and Ianis C. have been with us since September, 2018. Delia is the middle child, born in October, 2011. She is very sociable and easily befriends others. She is overjoyed that she can live with her siblings and has embraced our orphanage family with all her heart. After their father abandoned the family, the mother had to go abroad in search of work. For the first years without her, the children went from family to family with no place to call home and Denisa, the oldest, had to take care of her younger siblings, oftentimes missing school while desperately trying to keep them well taken care of. Despite all the gifts that their mother used to send them in order to compensate for her absence, the children were heartbroken and one could see the suffering in their eyes. The mother quickly understood she needed assistance raising her children and asked for our help.
The immense void in their hearts has made the three children grow very close in their relationship with each other. This is the reason why we decided to place them all in one apartment in our building so they do not have to be apart. They have found at Hand of Help a family environment and their home for the foreseeable future. For the first time in a long while, they have started to smile again and make memories together as they grow up.
In her free time, Delia enjoys drawing, roller skating and gymnastics.
Their mother keeps in touch with her children via phone calls and has promised them they will be together again when she returns to Romania.
We thank you for keeping Delia and her siblings in your prayers. We ask our Lord in His faithfulness to watch over them, restore their hearts and guide them through all life's circumstances. There is no greater love than that of our Father and we pray that Delia, her sister and her brother, will come to understand the precious gift of salvation and become obedient servants of our Lord.
To sponsor Delia C, go to the Sponsor Today page, and click "I want to sponsor a child", and enter "Delia C - Child of the month" under the Child Name section.
How was the Orphan and Family Sponsorship Program started?
How do I join the program?
How much does it cost to sign up?
How does the child or family benefit from the money that I provide?
What is the sponsorship schedule? How do I contribute?
What happens if a parent or relative removes the child that I am sponsoring?
Will I receive receipts for my support?
Will I receive information about a specific child or family?
Can I write to my sponsored child?
Can I send gifts to my child or family?
What happens to my child or family if I am unable to send the monthly support?
Can a group, church, or organization jointly sponsor a child or family?

---