Sponsorship
The Orphan and Family Sponsorship Program of Hand of Help offers churches and individuals the opportunity to help change the world, one child or one family at a time. With the help of ministry volunteers, potential sponsors are connected with orphans at the Hand of Help Orphanage in Botosani, Romania.
The Child of the Month is Ana-Maria P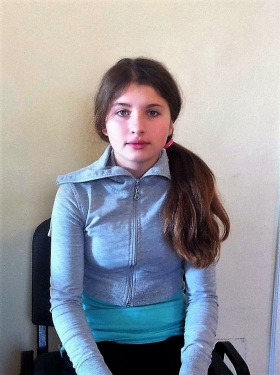 Ana Maria comes from an apparently normal family from Botosani. Her parents are both alive and she has one brother.
As a consequence of constant altercations between her extended family and continuous competition in forcing Ana Maria to take sides, Ana Maria was pressured in to doing the unthinkable, trying to take her own life.
Ana Maria was hospitalized as a result of drinking straight chlorine.
The Child Protection Agency was immediately called by the hospital workers and based on collaborating testimony, they decided to place Ana Maria in a center.
We were the first to be called and we decided to take Ana Maria under our shelter and work with her toward the reunification of her family. Please keep her and all of our staff in your prayers.
Ana Maria needs to understand the love that her family has for her and she needs to fight toward rekindling her relationship with her parents and her brother. We know it will be a struggle but we are certain that God is in control and He can make a way where it might seem humanly impossible. Ana Maria will continue her studies and she will get all the spiritual, emotional, medical and educational help she needs from within the Hand of Help family. May God work in her heart, bringing healing and restoration, and may her family soon be reunited!
To sponsor Ana-Maria P, go to the Sponsor Today page, and click "I want to sponsor a child", and enter "Ana-Maria P - Child of the month" under the Child Name section.
How was the Orphan and Family Sponsorship Program started?
How do I join the program?
How much does it cost to sign up?
How does the child or family benefit from the money that I provide?
What is the sponsorship schedule? How do I contribute?
What happens if a parent or relative removes the child that I am sponsoring?
Will I receive receipts for my monthly support?
Will I receive information about a specific child or family?
Can I write to my sponsored child?
Can I send gifts to my child or family?
What happens to my child or family if I am unable to send the monthly support?
Can a group, church, or organization jointly sponsor a child or family?

---