Sponsorship
The Orphan and Family Sponsorship Program of Hand of Help offers churches and individuals the opportunity to help change the world, one child or one family at a time. With the help of ministry volunteers, potential sponsors are connected with orphans at the Hand of Help Orphanage in Botosani, Romania.
The Child of the Month is Petronela O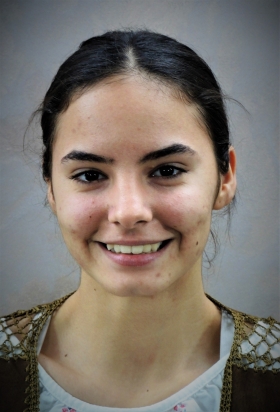 Petronela O, born in March 2002, has been a part of our family since August 2018.
Due to Petronela's foster father getting diagnosed with cancer and the fact that both foster parents were older and unable to deal with the challenges of raising a teenager, they decided to ask for our help in providing her with an environment where she could flourish and also receive the supervision she needed during these crucial years.
Petronela had a difficult time in the beginning adjusting to our center's environment where children have to listen to their teachers and respect the counsel of our staff. It took her a few months to understand that rules are set in place for everyone's well-being but once she opened up and began understanding the benefits of such a way of living, not only did she embrace this new structured life but also did so joyfully. The dramatic change visible to all led her to being elected the leader of her orphanage apartment.
Petronela started getting involved in various activities around our center, from cleaning, and gardening to helping with the cooking. She has made new friends in the orphanage and we have seen tremendous progress in school. She has even told us she believes that being a part of the Hand of Help orphanage has changed her life for good.
She loves listening to music, reading and taking long walks in her free time. She is saving her spare money to buy books and clothing. She is still in touch with her foster family and visits them often. Her goal is to work hard and get a scholarship to college and to further her education.
Please join us in praying for Petronela asking our Lord to give her the wisdom and discernment to always make the right choices and most importantly, to follow our Lord and Savior!
Thank you for the difference you are making in the lives of our children!
To sponsor Petronela O, go to the Sponsor Today page, and click "I want to sponsor a child", and enter "Petronela O - Child of the month" under the Child Name section.
How was the Orphan and Family Sponsorship Program started?
How do I join the program?
How much does it cost to sign up?
How does the child or family benefit from the money that I provide?
What is the sponsorship schedule? How do I contribute?
What happens if a parent or relative removes the child that I am sponsoring?
Will I receive receipts for my support?
Will I receive information about a specific child or family?
Can I write to my sponsored child?
Can I send gifts to my child or family?
What happens to my child or family if I am unable to send the monthly support?
Can a group, church, or organization jointly sponsor a child or family?

---